Other Management Resources
The following resources have been produced by the Forest Users Education Liaison project, local councils etc. Feel free to use the FUEL resources and/or use the other resources as inspiration for creating similar resources for your local area, in conjunction with your local riding community.
---
To get copies of the FUEL (Forest Users Education Liaison) project cartoons such as the one below please contact the Motorcycle Council
---
An example of signage to discourage illegal riding in public reserves (from Penrith City Council):
---
A hunter region FUEL project group produced a brochure to discourage illegal riding and promote legal riding locations in the region. The brochure can be downloaded as a PDF file from the bottom of this page.
To best view the brochure you will need Adobe Reader 9 or later. To download the latest version of Adobe Reader click here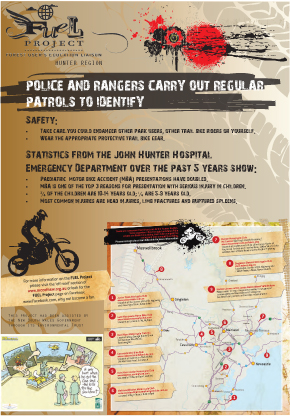 ---
Have you got resources that you would be happy for other land mangers to use, or draw inspiration from? Send us an email at the Motorcycle Council